Message from
Blue Hair!

(Paul Frankhouser, ENG'R'G, '65)

Welcome to the fourth season of IMBLUEPSU.COM, the Penn State tailgaters' Number ONE website! If you really love the sport of tailgating, whether you're a Penn Stater or a visiting fan, the goal of this tailgate and this website is to help advance good sportsmanship and positive interaction between all fans to make everyone's gameday experience at Penn State a positive one.

At this Four Time "Most Penn State Spirit" Award winning tailgate, we practice
The Penn State Fans' "Golden Rule of Tailgating":
"Do unto visiting fans the same that you would have them do unto you as their visiting fan".

Over the years thousands of fans, both Penn Staters and visitors, have stopped by my "Highly Spirited" tailgate to say hello, talk football, and to take lots of pictures. This website was established to share pictures and feedback from all visitors to keep the memories and good feelings alive after the game and to help establish and maintain positive relations between all fans regardless of who wins the football game.

I am a firm believer in the Penn State Code of Honor (Click). That's the goal of my tailgates and this website and that boils down to common courtesy and mutual respect between all fans. Behavior that interferes with other guests enjoyment of their game day experiences cannot be tolerated by True Blue Penn Staters.

All fans are invited to stop by my tailgate, say "Hello", take plenty of pictures, then email them and any feedback to this website to share. It is my goal to use this website as a positive way to help make Happy Valley the Number One spot for HAPPY TAILGATING and to help the fame of Penn State as the home of the greatest fans!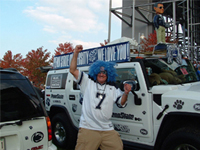 For The Glory!
PSU Bluehair (Paul Frankhouser)
**Please send your pictures from the tailgate to
PSUBlueHair@aol.com
**