Notes from numerous Alabama fans Part 1
"Our experiences during our visit to Penn State University from September 8–11 were exceptional. From the Parking Lot 19 gate attendant to the Event Staff at the Stadium, my family was welcomed and respected. We felt your 'family' was happy to host us. … Your students and alumni made our trip special. Thank you for all you do to make the Penn State experience safe and fun."
-- Dale Kirsch, University of Alabama, Class of 1979

"I just wanted to take a minute to thank you and all of the Penn State fans for such great hospitality in Happy Valley. We had an awesome time and really enjoyed the gracious tailgates. … I've been attending college football games for over 40 years, and the Penn State fans last weekend were by far the best hosts ever. We never heard a single bad word and everyone was genuinely friendly and courteous to us the entire time…"
--Bob Larkin, University of Alabama, Class of 1981

"Thank you so much to all the Penn State fans who welcomed us to State College. The kindness and respect from absolutely everyone was overwhelming. We were given seats and delicious food at crowded bars, restaurants, and even tailgates."
--Jim and Denise Lowery, Birmingham, Ala.

"Alabama fans have so much respect for Penn State and the wonderful tradition it represents. Your fans were classy, hospitable and welcoming, and the state of Alabama says thank you."
--Bethany Smith, Northport, Ala.

"As a native Pennsylvanian transplanted to the great state of Alabama for the past 45 years, I had the pleasure of attending the Alabama–Penn State game. Wow, I was overwhelmed by the hospitality. Everywhere we went we were greeted with a gracious and heartfelt welcome. As the only 'Yankee' in my group, I must say I was proud of the open arms with which we were welcomed."
--Rick Trethaway, Tuscaloosa, Ala.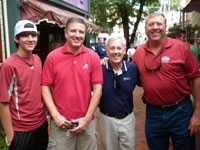 Back to Letters
**Please send your pictures from the tailgate to PSUBlueHair@aol.com**